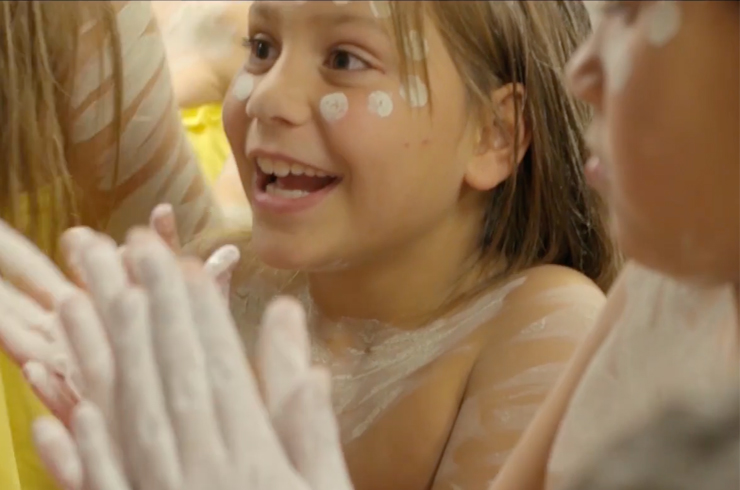 Nestled beside the skate park in Waterloo, inside a metal-encased building which looks like a piece of public art, is a dedicated team of people serving their local community. The building is home to Weave Youth and Community Services, a community-driven organisation that has quietly been going about its work for the last forty years.
Earlier this year, the organisation won a Mental Health Month Award in the Aboriginal Social and Emotional Wellbeing category for their Stories of Lived Experience project. Almost 65 per cent of their clients are Aboriginal or Torres Strait Islander.

Stories of Lived Experience was just one of the many projects that showed community members that Weave was listening and was committed to sharing their voices with others.
"It's about working with clients and community. We have families here – as you see in the stories – with grandmothers now, who as a child, came through the service. Weave was there for them during their hard times, and their children went, and now their grandchildren are accessing the service. It's about being in a community that has established that relationship. You see the story in the Lived Experience
"If it wasn't for Weave, I wouldn't know where I would be." And you see people classing Weave as part of their family as well," said Melissa Merritt, the Team Leader of the Creating Futures program.
"That project was an evaluation project across the programs at Weave and across the lifetime of Weave as well. We really wanted to do that to find out what had worked well and what more could we do. The only way to do that is to consult with the people who use the service," Kylie, Fitzmaurice, the Team Leader of the Speak Out program, explained.
"It was so beautiful, the stories and the photos from the launch. Everybody who participated and who was interviewed had a beautiful portrait taken of them with their kids or with their grandmother or on their own. They were black and white and they were absolutely stunning. They were all hanging up where we had the launch. Some of my clients participated in the interviews and they just felt so empowered by that. It's so important to give people a voice. There's so much that needs to be said and taught to Australia about the Aboriginal story and the culture and that was a way to help them to be able do that, to give them that platform…It's very moving."
The work that Weave does is based on centring the clients wishes and their needs. Projects arise organically out of needs that have been identified by members of the community. Indeed, that is how the organisation first started in 1976, when local Aboriginal parents advocated for a youth service to support the welfare of their children.
"We have a bottom-up approach. People in the community are the experts of their own lives," said Kylie.
"It's about us, as workers, walking alongside our clients on their journey, not dictating to them what we think is needed for them. It's about them telling us what they require, what their needs are, and working with them on whatever is needed on their journey to help them achieve their goals and overcome those barriers…It's important that we listen to community. The community feed back to us. We have that rapport and trust that's been established over forty years," Melissa added.

The program Kylie leads, Speak Out, works specifically with young people to support and empower them to achieve their goals and deal with challenging circumstances. The young people involved with Speak Out have been dealing with both mental health and alcohol and drug conditions themselves or in their families. The program includes intensive casework and counselling but there are also a number of projects. These include outreach art therapy groups at mental health units, including ones treating eating disorders, groups at juvenile detention centres that focus on health and wellbeing, and a six-week pilot program at schools about good mental health.
"We don't look at people from a deficit-based model, we look at them from a strengths-based model and how their strengths can help them to overcome the challenges they face and also help them experience life in a new way and themselves in a new way," said Kylie.
This approach is something that also informs Melissa's work. The program that she leads, Creating Futures, supports young people, aged 18 to 30, who have been incarcerated to reintegrate into the community. The young people and the team will sit down together to work out what is needed.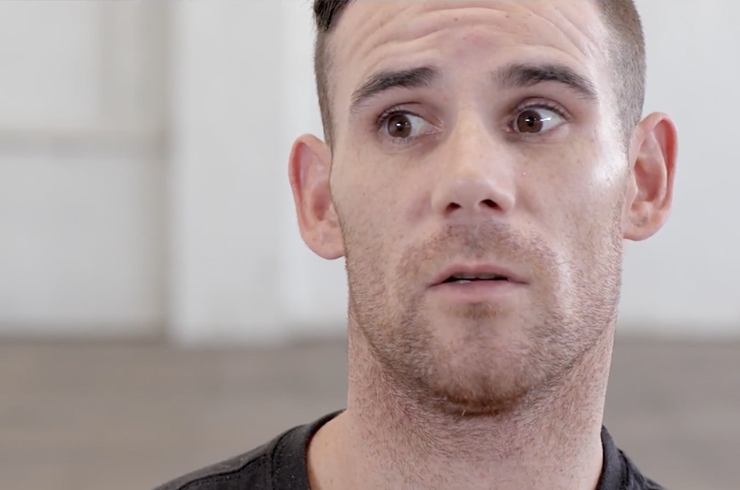 "Usually it's simple things such as identification, Medicare, a bank account, applying for housing – a lot are homeless or living with family that have overcrowding within in their home – so we'll advocate for them with Housing to sustain their own accommodation and tenancy…We find that a lot will engage with counselling with our psych in-house as well – we have the benefit of that here, within Weave – to address their years of addiction, the trauma within their family and what they might have been through as a child and what's led them to where they are today."
As with all of their work, the work that the team at Weave do more broadly in supporting mental health and wellbeing is also very much led by their clients.
"We don't work in diagnoses here unless that person wants to talk in that language. Even in the little things, having the flexibility in language to speak about a person's mental health in a way they feel comfortable and safe is so important – and so small, and so easy to do – but there's quite a resistance inside, for example, the hospitals to speak in that language. I think it is changing which is great and I think that the trauma-informed movement is really beginning to gather up more people and that will become part of the really important and systemic change we need, to work with people and families."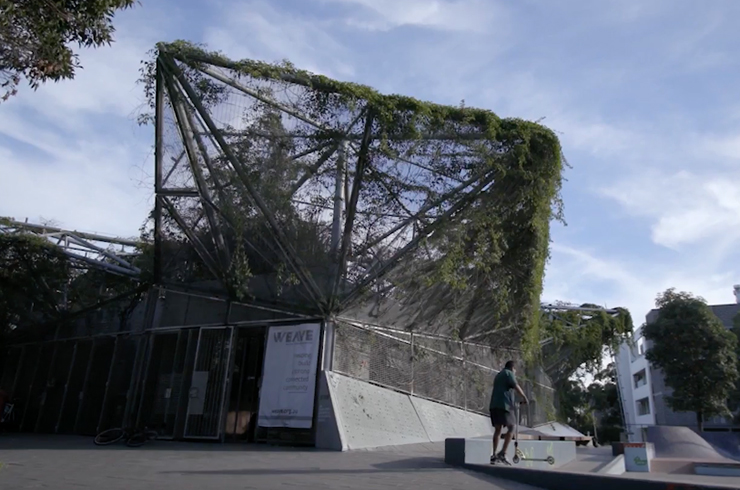 The way that Weave supports clients is heavily informed by the principles of trauma-informed care. The staff at Weave recognise that although they might not always know what has happened in the lives of their clients, there is an awareness of what they might have gone through.
"I think that's been a way that we've always worked without necessarily being able to label it, but we can now. It means that we have the awareness of the trauma that our community has experienced over many, many years, it's intergenerational and also the personal trauma, the racism that Aboriginal people experience daily," said Kylie.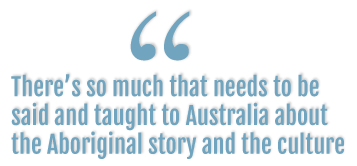 "You might not necessarily know the story but you need to have an awareness of what has happened to the people that we are working with, over their lives, and how it is impacting on their mental health and their journeys today…You don't see a person for their problems, you see them as a human being who is amazingly resilient and who has had to survive lots of terrible things."
The team do face challenges, often due to the wider structures within which they work, as well as a systemic lack of awareness of a lot of the circumstances that their clients are dealing with.
"It is very challenging working with the systems that we have to work within. A really big part of our work is advocacy, making sure our community has a voice and we do have to fight pretty hard sometimes just to get their voices heard. It's a really exciting time right now to work in mental health because I think it is really changing. With advocacy, there's a lot of system change. There's a long way to go though," Kylie says.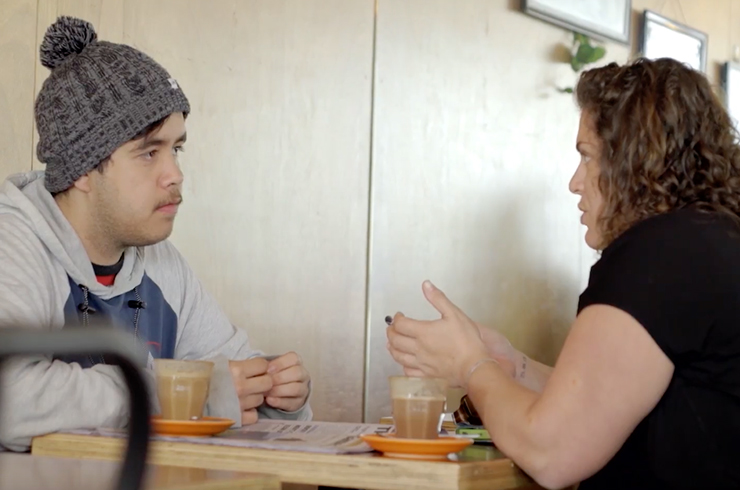 "I think there's more awareness now than previously. Especially with things like celebrities and footy stars talking about it and acknowledging it," says Melissa.
The changes that are being made in parts of the community sector, in recognising the importance of mental health and support for people beyond just diagnoses, is something that is key to Weave. The organisation's ability to work with clients on what best suits each person, and helps them on their journey towards their goals, is a hallmark of what they do.
"We can be really creative in the work that we do and we can think outside the square. We don't have to sit in the room to do counselling. If somebody loves art, we can take them to the art gallery and we can do our session on the art gallery lawn," said Kylie.
"We meet them upstairs [in our rooftop garden] or outside or at a coffee shop," adds Melissa.
"We know that the people we work with know what's right for them. We're just here to share our knowledge on how to get to those places that they want to get to. It's a really beautiful place to work," says Kylie.
By Tasnim Hossain