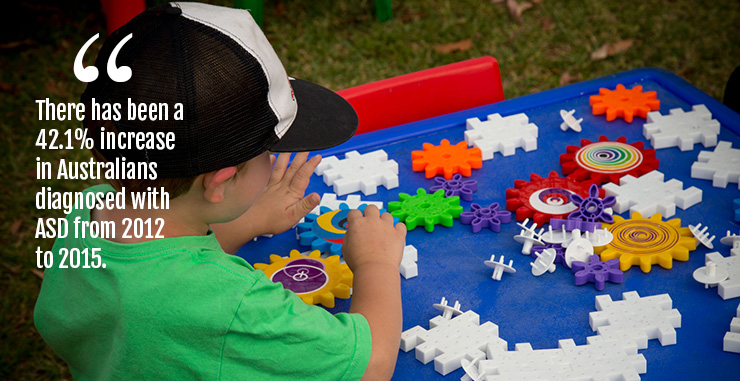 Autism impacts each child differently depending on their neural and cognitive differences. Parents and carers are continuously caring for their child, whether it be interacting with them or supervising them, finding the right interventions or financial support.
Often, the responsibilities of caring have an impact on health and wellbeing, with some parents reporting poorer subjective mental health and quality of life. Parents of children with Autism Spectrum Disorder (ASD) report elevated distress profiles, reporting higher levels of stress, anxiety, and depression, compared to not only parents of typically developing children, but also children with other intellectual disabilities.
The early years of a child are critical for their neural and cognitive development, so often families cannot afford to undergo a trial and error process to see what combination of interventions works best for their child. What works for one family may not suit others. Increased awareness and changes to the diagnostic criteria in 2013, have also seen a 42.1% increase in Australians diagnosed with ASD from 2012 to 2015.
It is important to stress that just as each child is different, so are the experiences of each family. In some circumstances, the experience of raising children with ASD has brought families closer. Parents work together to provide the best possible care for their children, leading to a stronger sense of companionship. Mrs Santos, a mother of two children including one who has recently diagnosed with ASD, highlights how her family's experience in raising a child with ASD has led to a positive impact on their lives and on her relationship with her partner.
"Although there is more pressure on us to earn more money, to stay up longer and wake up earlier, we have each other to turn to. It's made us appreciate the time we spend together," Mrs Santos said.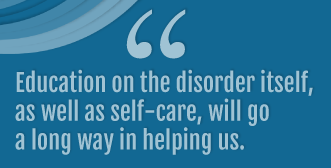 The experience of raising a child with ASD also builds resilience. Families face daily challenges in raising a child with a disability and, in many cases, being able to overcome hardship makes families stronger. Family resilience leads to improved health and wellbeing, shown to act as a buffer against the development of stress and anxiety. It can also lead to the learning of humility, acceptance of others, and a greater awareness of relationships. Mrs Santos emphasises the importance of showing affection to both her children.
"I am more aware that I also need to spend quality time with my daughter. We're more mindful of being good parents to her as well."
Although the child's needs should be prioritised, the health and wellbeing of parents should not be disregarded. While there is funding to help with the child's needs, there is minimal support for families and their wellbeing. Parents, like Mrs Santos, are voicing the need for the allocation of resources for them, especially respite and education.
"Turning over the decisions to a professional didn't sit well with me. Especially when I was not familiar with therapy. Education on the disorder itself, as well as self-care, will go a long way in helping us."
The sense of uncertainty around effective interventions, coupled with the greater demand that a child with ASD requires, can place copious amounts of stress on families. As a result, more families are affected by the stressors associated with caring for a child with a disability. Parents and related carers often work hard to support their child's wellbeing, so it is important to ensure that their own wellbeing does not become secondary.
There are various ways parents and carers can look after themselves:
Seek respite care when it's needed

Caring for a child with a disability doesn't have to be just the responsibility of the parents. There is a range of respite services available which are tailored to supporting children with a disability, both within and outside of a home setting.

Find a support group

Finding families in a similar situation as you allows you to be able to connect and share stories, tips, and advice.

Call a helpline

Lifeline – 13 11 14 – 24-hour service
Carers NSW Australia – 1800 242 636 – 9 AM – 5 PM, Mon to Fri
Autism Advisory & Support Shop – 1300 222 777 – 24-hour service

Make time for yourself and to spend with your partner

Of course it can be very hard to find time for yourself when you are caring for a family member, but even a 10-15 minute break every day can help relieve stress in the short and long term. Being able to switch off and recharge can go a long way towards better wellbeing.
By Johnny Wang