There are often many barriers that can get in the way of someone seeking help about their mental illness. According to batyr, a youth-focussed mental health organisation, one of the biggest barriers is stigma, especially for young people. Young people fear that others will judge them negatively as being weak, incapable or "crazy". As a result, many who could otherwise benefit from support and treatment do not seek or receive it. With suicide the biggest reason for the deaths of young people, successful efforts to reduce stigma and encourage help-seeking behaviour are important.
Since 2011, batyr has been working with young people in schools and universities to help tackle the stigma surrounding mental health and encourage people to seek help. According to batyr's research, in an average class of 30 high school students, seven will have mental ill health but only two will seek professional help. That leaves five students, or one out of every six high school students, who will have mental ill health but will not have sought help.
What is batyr? from batyraus on Vimeo.
Recently, the organisation released results of research they conducted with Macquarie University 's Centre for Emotional Health, from their Department of Psychology, on the efficacy of their batyr@school program. The program is a 60 to 90 minute presentation for students and teachers in Years 9 to 12. It aims to reduce stigma through sharing personal stories of the lived experience of the presenters and encourage help-seeking by informing students of what help is available to them and helping them feel able to do so.
"What I love about [batyr@school] is how engaging it is for students. It's exciting and the people delivering the program are just so cool and approachable and normal and I think that the students really connect with that and I like that about this particular program, which is changing stigma," said the Director of the Centre for Emotional Health and lead researcher for the evaluation, Professor Jennie Hudson.
"There hasn't been a lot of research done with adolescents actually at all. What seems to be producing the most change in terms of stigma is when individuals have contact with people who have had a mental health concern. It's that contact-based intervention that seems to be delivering a lot more change over and above standard education, which I think is really important. The batyr study actually confirms that. The people delivering the program have had experiences with mental health before. The fact that it's a contact-based intervention I think is really important."
The study found that the program had positive results even three months after it was conducted. The results included reducing stigma around mental illness and increased a positive approach to help seeking, including the attitudes towards, and intention to engage with, professional sources for help.
Although the study showed that the program had a positive effect on young people's attitudes towards others following their participation in the batyr@school program, they were less convinced after the program that others' attitudes towards them would be favourable.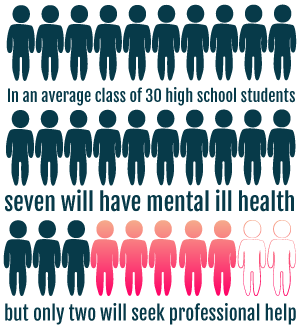 "What was great is that [batyr] were able to change the students' stigma about what they thought of other people, which is something really important. What we weren't able to change was what some individuals thought about themselves seeking help so that was surprising. We could only ever change people's opinions – of the students in the school – we couldn't change their parents or their family and friends outside of school," said Professor Hudson.
"Often other issues become more important, or more of a focus for school counsellors, like truancy or conduct problems, rather than anxiety or depression."
The students surveyed also did not rate seeking help from family and friends any higher after the program so the study authors suggest that that could be further incorporated into the batyr@school program as a positive, informal help-seeking behaviour. Regardless, there are many factors that play into whether or not young people experiencing ill mental health do go on to get help.
"For a lot of young people, not accessing help is about lack of mental health literacy; they're not aware that what they're experiencing is a problem that they can get help for, particularly with anxiety because everyone does experience anxiety, so it is really hard to know when it gets to the point where they should be seeking help. Also, particularly for adolescent males, there's this view that they need to be able to solve it themselves. "I want to be able to handle it myself. I don't want to go and see somebody because I can handle it and I can deal with it myself." So that is a real barrier, that they're not seeking more formal help," said Professor Hudson.
"Access to help is affected by just not knowing where to go, not having access to mental health services, particularly for rural Australians as well; there's a long queue for mental health services. Also the stigma that we talked about, not wanting to acknowledge that they may have a problem, even if they're aware of it and that there is help available. Maybe they don't want to be viewed by others as maybe being  "weak" or viewed negatively, or they're concerned about what it might mean for them in the future."
Mental ill health can affect people regardless of their age and background, however stigma among young people can contribute to them living with ill mental health in silence. Programs that help reduce stigma and encourage them to seek help are needed, especially those that can be supported by research in achieving their aims.
"The results were really great overall and really promising in terms of making a difference in changing adolescents' view of mental illness and other people with mental illness. We're going to continue our collaboration and further evaluate the program," said Professor Hudson.
The full report is available at: http://www.batyr.com.au/wp-content/uploads/Stigma-Reduction-Help-Seeking-in-Australian-Classrooms.-Research-Report-2017.pdf
By Tasnim Hossain