Australians from CALD (culturally and linguistically diverse) backgrounds are less likely to seek help for mental health issues due to a range of factors, such as language barriers, not being familiar with Australia's health system, or simply just not knowing what warning signs to look out for.
Nikhil*, who attends an anxiety support group in Sydney, struggled with panic attacks and social phobia for months before being diagnosed with anything, hiding the problem from his family and friends until he reached breaking point.
Nikhil had his first panic attack in 2011. The year had started off a happy one- he and his wife had a young daughter as well as another baby on the way. But when he started feeling dizzy at work, he began to worry- especially when it got so bad he had to leave early one day.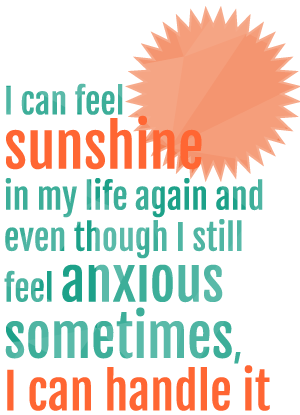 "I started driving back home but my mind was so fragile. I was thinking, 'What if I faint while driving?' I stopped at a red light but couldn't pull over. My heart was pounding and all I could see was the red light. The only things I could do to try and cope were breathing and drinking water – I thought I was having a heart attack. I forced myself to drive further as the light went green until I found a place to pull over. I thought about calling an ambulance but decided not to. I just kept breathing, drinking water and praying to every god I knew. Somehow I managed to get home-it was my longest and hardest drive ever."
He didn't say too much to his wife- she was 8 months pregnant and he didn't want her to worry.
But then the same thing happened again at work the next day. Nikhil went to his GP, who gave him some pills to reduce his heart rate and didn't think it was anything too serious. But nothing seemed to make any difference.
"I became scared of collapsing anywhere I went, thinking I was going to have a heart attack. I started thinking about my daughter and pregnant wife. What would they do if something happened to me? What killed me was that instead of me taking care of my wife who was due in just a few weeks, she was the one taking care of me. None of the doctors found anything wrong with me,but I knew something wasn't right. I was constantly asking myself "Why is this happening to me now, when my family needs me more than ever?" I became very weak mentally, but I tried my best to hide it from my wife."
Finally, Nikhil went to see his GP again and described what had been happening the past few months. This time, his GP gave him a DVD about mental illness and when he watched it, he realised he was suffering from a combination of social phobia and panic disorder. It didn't make him feel any better though – all he could think about was what would happen to his family, his newborn son in particular. He finally told his wife what had been going on, and she encouraged him to see a psychologist who diagnosed him with depression.
"My wife inspired me, as always, to recover from the hell I was going through. I looked at her, then at my daughter and crawling son. I wept on the inside thinking about their future, and decided that I  would fight hard no matter what to come out from that hell. Days and months passed by and gradually I started getting back to normal. I went to social gatherings and on holidays, exercised whenever I could and meditated on and off. Eventually I felt the sunshine coming back to my life."
Nikhil thought that was the end of it, until one night when he was watching a particularly violent war documentary- his favourite kind.
" Out of the blue, I felt an uneasiness in my chest. I ignored it at first and kept watching, but it kept getting worse. My heartbeat got faster and heavier, until I finally switched off what I was watching and changed to my meditation music. I told myself I could control  it- deep breathing, drinking water and walking around my lounge room. It was an awful night,  I hardly slept. Then I went into work the next day thinking I was going to die."
But then he heard about WayAhead's Anxiety Disorder Support Groups through a couple he was introduced to by a relative who also suffered from anxiety. He found the Sydney group online and decided to go to the next meeting.
" I was very anxious and shaky, even though everyone was really friendly. Soon everyone started sharing their stories,  one after another. I started feeling a lot better knowing I wasn't the only one suffering the way I was, but my heart was still pounding heavily as my turn came to talk. I was resisting the urge to run out of the room. Finally, Toby asked me to introduce myself and share my story. It was my first time expressing my suffering in front of so many people. I spoke to people who were on medication and weren't, everyone had different views. I found out many of them had been to doctors and psychologists on and off like me. I felt so happy when I left the room and couldn't wait for next month."
Nikhil made the decision to go on medication, but he also kept going to the group meetings. He ends his story on a positive note:
"Now it's been more than a year that I've been part of this group. Things are looking better. I can feel sunshine in my life again and even though I still feel anxious sometimes, I can handle it. I know these feelings will always be part of my life, but  I have to be strong.  I want to say thank you  to this organisation and everybody whom I've mentioned in my story. Special thanks to Rachel and Toby for committing their valuable time to this organisation and bringing together people like us.
Live in your present not with your past or future…
Om Mani Padme Hum……(Buddhist mantra)
*Name changed for privacy reasons
If you or anyone you know is living with anxiety, you can find out more about WayAhead's Anxiety Support groups on our website, by calling our Anxiety Disorders Information line on 1300 794 992, or by emailing  supportgroups@wayahead.org.au
by Anita Senaratna