You may have met Stephen.
He's the man who kept smiling at you on the bus, the stranger who approached you in the street and made a joke, the one who stood in the line at the shopping centre and smirked as he muttered under his breath.
You may have met Stephen, but do you know his story?
After your brief encounter with him he returned to his home, a caravan park in Wadalba.
He finds it depressing.
He dreams of a place in the countryside, a small house where he could be alone in his thoughts, undisturbed by other people. Bob Dylan's soothing voice would fill the walls of his abode.
On that day you met Stephen he sat at his living room table, the sun warming his back as it streamed through the window.
Paper and pen lay before him and he couldn't help but to wonder why he felt people were talking about him, how they seemed distant, sneering at his behaviour.
As he reflected on their judgmental gazes he remembered the stories and emotions hidden in their eyes.
He remembered his own stories and emotions. He remembered an old friend.
His thoughts and memories materialised as he started to write: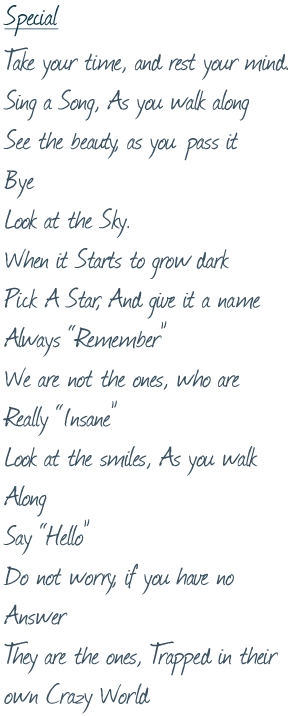 He stopped writing.
As you read Stephen's poetry you realise it is paper inked with the experiences of a misunderstood person. It is the expression of a schizophrenia consumer- a mental illness experienced by 1% of the Australian population.
Stephen began experiencing schizophrenia symptoms during the 1980s, triggered by the loss of his parents. After hearing voices in his mind he became concerned about his health and went to hospital, where he was told he had paranoid schizophrenia and depression.
Ten years later he battled grief again upon losing his partner, his "lady". These traumatic events aggravated his mental health and he was troubled with debilitating thoughts.
"I wanted to die. That's how I felt. I just thought I was a bad person because everyone I knew was passing away on me."
The voices he hears are currently not as intense, as he is under treatment. One way Stephen finds peace during his moments of confusion is to listen to music, a collection of 200 Blues and 1970s CDs, 15 of which are Bob Dylan.
Perhaps the most intriguing quality of Stephen is his healing strategy – writing poetry.
"It makes me feel like I'm on a high, it makes me feel good. I think there's people out there that don't have the illness and so they can't understand it, that's my opinion. If I write and if they can understand it, they will achieve something. I get satisfaction when I write something and know that other people appreciate it."
At one point he had written a couple of hundred poems, but after a bad schizophrenic episode he burnt them all. He plans to slowly rebuild his poetry collection, using an array of creative stimulus- ranging from people of the past, to people who pass him in the street.
"If I meet someone I can work them out and I know if they have problems. Then I write about them. That's where I get my inspiration. I can see if they've got problems, I don't need to be told. I can read people. I can read their eyes… If I write something I will give it to them."
For Stephen his poetry is a way for him to connect with people and help them understand what he and 1 in 100 Australian experience. He sees one of the most challenging aspects to his illness being other people's inability to understand it.
"I don't want people to look down on other people and be discriminative. I think there's a little too much of that. I think there are people who understand mental health, the ones who want to understand it, that's good. But there are the other ones who are just too ignorant and don't understand it, they tend to look at you funny.
"I can't say if there's anyone out there who understands me because I really don't know. But the only way I think they could understand me is through my writing."
Stephen picked up his pen once more and finished the poem: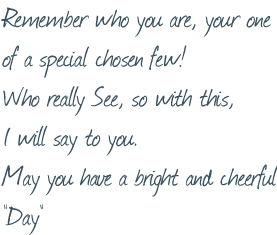 By Ellie Hills