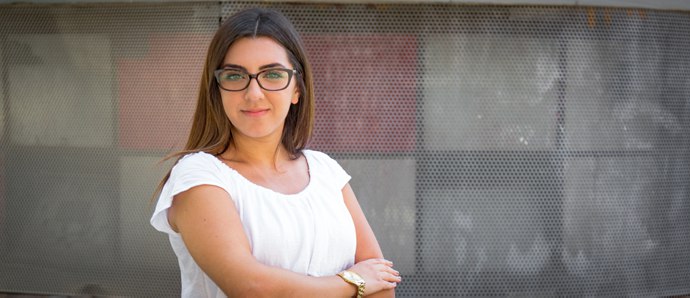 Burwood Anxiety Support Group to create awareness among cultural groups
Burwood has joined the growing number of Sydney suburbs to host a WayAhead Anxiety Support Group. The Support Group's facilitator, Samantha Eid, is a young and passionate university graduate who started running the forum in September.
"It's an initiative we want to start up because we haven't had this sort of initiative in our community. Hopefully we can start something that is more persistent and long term with education seminars and workshops around mental health," she said.
WayAhead has been running Anxiety Support Groups across NSW for over 20 years. The groups provide much needed support and help for people with debilitating anxiety disorders, which can include panic attacks, obsessive compulsive disorder or social phobia. There is a common misconception that anxiety disorder cannot be treated, and the support groups aim to reverse this belief by providing a welcoming forum where people can discuss and learn about what methods can work for them.
Students and young adults are at the forefront of this new wave of mental health promotion, shining a light on the role mental health can play in a balanced lifestyle. Through attending WayAhead counselling training days, Samantha has become a strong community advocate in the field of mental health and wellbeing. An interest in psychology that started in high school convinced the Bass Hill resident that this was the career for her.
"I've had a passion for 'Psych' since Year 12. I did extension four English and my teacher supplied us with a lot of books from Sigmund Freud and other Fathers of Psychology," she says.  "At UNSW I finished my undergraduate in Bachelor of Psychological  Science. Now I have a focus on mental health promotion and becoming trained to reach out to as many people as possible through promotion and awareness."
After graduating last year, Samantha sought to increase her practical skills in the field of mental health practise. She was one of over 20 people from across NSW to attend WayAhead's facilitator training day hosted by Associate Professor Rocco Crino.  The training days are designed to educate support group facilitators on the practical aspects of running an anxiety workshop as well as developing the communication skills that are needed to create a safe and helpful environment.  Samantha believes that the training complimented the skills she learnt through her university degree.
"It was very similar to what we studied but I really enjoyed the focus on the support groups and the tips and pointers that we got about how to manage them.
"At university we studied mental health but it was a different take on how to actually… handle those situations and guide people through that. At university it was very theory based, so training was a good eye opener on what to do in those situations."
After Club Burwood agreed to provide the premise, Samantha worked tirelessly to get the forum up and running. She says she specifically targeted Burwood not just because of its ethnically diverse background, but also for its services.
"I chose Burwood because of the many psychological services around that area and I thought it would be a beautiful central place to have that running. It is central and close to the shops."
The culturally and linguistically diverse backgrounds in the Bankstown region place little emphasis on openly recognising mental health issues. She hopes to break down these walls and provide education to targeted groups.
"Bringing professionals from different fields to come in and to speak to the youth and even the elderly in our community because there is a lot of stigmatisation around mental health with that age group. So basically providing more education and awareness around an issue like that."
Coming from a Lebanese background has given Samantha an insight into some of the stressful factors that cultural groups face when they settle in Sydney. She hopes that she can educate different cultural groups on the importance of a healthy mind.
"A lot of people are coming to Australia from war-torn countries or you've got people migrating, leaving everything behind. I think that can be a prevalent cause compared to people that are already settled here."
Samantha is focused on starting a long-term career in the mental health field, and has a positive approach towards what it means to promote mental wellbeing.
"It's reaching out to individuals in a way that allows them to stop and think, which grabs their attention in a way that makes them think 'Am I healthy, am I mentally healthy?' It's the strategies that motivate people to pursue mental wellbeing. A preventative approach, getting in there before people experience mental health issues."
The Burwood Anxiety Support Group meets at Club Burwood on Wednesdays at 6.30pm in the first week of every month. 
Written By
Harry Easton
More information on the Burwood Anxiety Support group
Find an Anxiety Support Group