It is stories like Alice Cheok's that remind us that while migrants have a past, they also have a future here and have so much to offer to the Australian community.
It is stories like Alice Cheok's that remind us that while migrants have a past, they also have a future here and have so much to offer to the Australian community.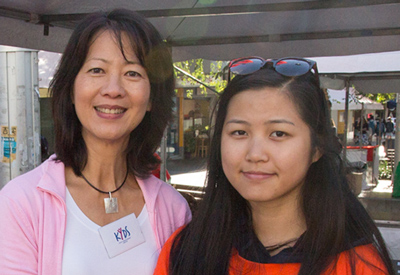 When I first spoke to Alice, I felt immediately at ease, like a patient confiding in their trusted counsellor. She had a soft voice – the kind where if you were having a bad day, she would be there to listen and guide you.
Alice was a refugee. Her journey began when she was just a child, getting ready to go on an exciting trip – or so she thought. Her whole family was there: her mum and dad, two brothers and her sister. She remembered it was dark and very quiet, with the sea huge and daunting. Alice was only 12 years old when her family had to leave their home in Saigon (now known as Ho Chi Minh City) in Vietnam, for a new life in Australia.
Alice and her family were one of the many Chinese-Vietnamese refugees resettled in Australia in the late 1970s.
She has come a long way since leaving Vietnam in search for freedom. When her family first reached Australia, they were immediately put into Pennington Hostel for refugees in South Australia where they stayed for two months.
At the time, there were lots of Chinese migrants working in restaurants as kitchen-hands or waiters and waitresses. It was a huge change for her family, especially for her father who was a businessman back in Vietnam. He had to work as a cook in a Chinese restaurant and eventually injured himself through years of straining his arms.
Like most migrant families, Alice's mother also had to work in order to provide for their family. Alice's father went from being the sole breadwinner to becoming very depressed because he felt like he was not doing enough.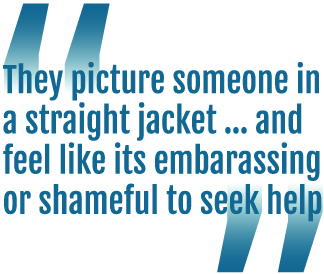 He never addressed this, though.
"I think some sort of social support or even counselling would help a great deal especially for people like us. People tend to think everyone else is fine because no one talks about it. But when you have these issues, you should go to talk to someone, like going to talk to a friend or a professional," Alice said.
"They see it as a weakness."
Alice's thoughts ring true for many Asian migrants coping in a new country. When Alice and her family were initially settled into the community, they received some help with finding a place to live, finding work and enrolling into school. But none of the social services at the time dealt with their mental health.
"My parents had a huge lack of understanding of what mental health is. They picture someone in a strait jacket or someone having severe schizophrenia and we feel like it is embarrassing or shameful to seek help but we should try to normalise this especially for people like my dad."
Alice not only had to deal with family problems at home, she was also bullied at school for not knowing how to speak English. She attended a high school where she was only one of two Chinese students and the only one with a refugee background. Even though she had school and was working at the Chinese restaurant with her parents at night, Alice practiced her English every day until she could speak the language right.
It took Alice a long time to figure out which career path she wanted. With her soft voice and understanding nature, it is hard for me to imagine Alice as anything but a counsellor for young adults, but she told me of her struggles to the right path for her.
Armed with her hospitality experience and interest in science, Alice completed her first degree: a Bachelor of Science, majoring in Organic Chemistry and Microbiology. She did some sales training at an insurance company, but the only person she managed to sell insurance to was her own mother. For her, this was a stepping stone to get into pharmaceuticals but she also faced challenges there.
"I cried every Sunday because of the week ahead, I was so miserable with that job. I respected doctors too much to think I knew enough to sell them anything and getting past the receptionist was very hard because they were very mean to sales people."
Alice wanted to change her career path so her friends told her to look into the marketing side for pharmaceuticals instead. Eventually she landed a marketing job where she worked for 20 years but one day it hit her that she did not want to be doing this for another 20 years.
"I realised what I liked doing was listening to other people's stories and I thought about it – what job is that? I went to a career expo with a friend and there were many organisations advertising for mentoring and counselling banners. I thought, well that's interesting and I found out I could do a Diploma of Counselling online."
It took Alice seven years to complete her Diploma but during this time, she had discovered that she truly enjoyed working with young people after some volunteer experience at Raise, the Youth Mentoring Foundation.
"There is a big difference in wages but I had support from my husband so I committed to that area and then I had to build up my credentials and experience. Through Raise, I was able to volunteer at KYDS [Kids Youth Development Service] and I've been volunteering here for a year and a half, and now I have a job here."
Alice hopes to work for a mental health organisation with a focus on adolescents and family mental health. She has realised that her different cultural background, as well as the training and communication skills from her sales job, have definitely helped her gain perspective on her clients.
"Because of my background, I definitely see kids experiencing the same challenges that I did. I had the Chinese side of me that really wanted to please my parents and I had my Aussie side with my friends. For young people, the majority of their friends have different values to their families but they cannot please everyone. They feel like they are letting their parents down," she recalled.
Many Asian parents have a narrow view of success which essentially is getting good grades and then getting a good job that makes money. From many parents' point of view this is because they may have lived a life of struggles where they were not given opportunities to gain an education or pursue jobs that looked after you. From their point of view, this success equates with happiness.
"They don't understand that here in Australia, there are different types of success… If you don't go to uni now, you can do it later. Aussies can do anything at any time of their lives."
Alice didn't know this but when she was talking about her experiences, I felt like she was mentoring me. I am a final year uni student without a clue about where I will end up after graduation. But speaking to Alice made me feel like it's okay that I don't have my life figured out yet and wherever I end up will be a stepping stone for me.
Alice said she was grateful to be given opportunities here in Australia and she plans to complete her Master of Social Work and Counselling. I wish her all the best in her studies and I have no doubt that she has so much to contribute to the Australian community.
Cindee Duong