Unfortunately this group is no longer running.
When Bi Yun Huang started volunteering for
Mental Health Carers NSW
, a community-based organisation supporting carers, family and friends of those suffering from mental illness, she wanted to look into how to best have other carers like herself engage in support groups and share their experiences.
Chinese-Australians often deal with significant stigma regarding mental health. There are varying levels of understanding about mental health and too often it is a subject that is taboo for the community. As a result, Chinese carers feel isolated, without support and in need of a place to find and exchange information.
The Chinese community is one of the largest Culturally and Linguistically Diverse (CALD) groups living in Australia. In the 2011 Census, 4 per cent of people reported having Chinese ancestry and almost 320,000 people reported speaking Mandarin at home.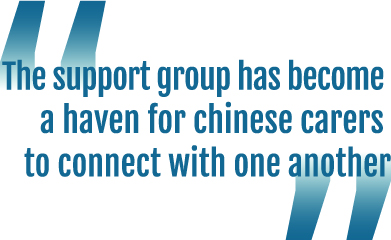 "Stigma is a very big issue especially in the Chinese community. They feel that it is very shameful to talk about these things but they do need to face all these difficulties.," says Bi. "When they can't talk about it to their friends and families, even if they wanted to get help from mental health services, it is incredibly challenging."
Bi had been from support group to support group, but felt dissatisfied with how the groups were run and what they were offering. She believed that it wasn't the Chinese way to have a support leader simply 'run things'. Chinese people love to talk and participate in activities together, prompting Bi to start a support group that encouraged open communication in Mandarin Chinese for participants to actively discuss issues.
With the support of Mental Health Carers NSW and the involvement of the Chinese community, Bi established the Ryde Mandarin Speaking Carer Support Group in 2014. According to Bi, Jonathan Harms, the CEO of Mental Health Carers NSW, was the key person to make it happen.
"Behind his support there was a deep understanding and insight," says Bi. "He embraced the CALD community where we know there is tremendous discrimination and stigma about mental illness."
The Chinese Mental Health Carer Support Group, with support from Mental Health Carers NSW, began with six members but now there are 94 participants, with the number still growing. The group comes together every month; each month with a theme or presentation. The Support Group has had presentations from Ability Links, a non-government organisation supporting disability system reforms in NSW, Care NSW, a Wellbeing Check Program by Northside Community Forum, as well as recreational activities including Flower Arrangement Therapy.
However, the main focus of these meetings is the face-to-face discussions that the carers have with each other. Once a month, carers are free to discuss their issues and create personal bonds without feeling embarrassed or ashamed about themselves or their situation.
The Support Group also takes the carers out to yum cha – a popular Chinese-style brunch – after the meetings. Food is very important in Chinese culture and especially shared meals with friends and family. Jonathan Harms explained that many Chinese carers had not had time to enjoy yum cha in many years because of the demands of their carer roles. The Support Group has become a haven for Chinese carers to connect with one another.
Hideki Yamaguchi has been managing this Support Group for nearly two years now and continues to do so because he believes that it is important for this community for the group to keep running.
"It is a very good group with very capable and committed people. I want to have this group for mutual support and exchange of latest information," he explained.
In March 2017, the support group changed its name to Northside CALD Carers Network to expand its services and reach out to a wider variety of CALD communities to help carers in need.
It was this leadership in building support amongst their community that lead WayAhead to ask them to participate in their recently held Mandarin speaker Anxiety Forum and Mental Health Expo in Chatswood. WayAhead believed that the experience of the community in Ryde could help the quickly growing Chinese community in the Willoughby Local Government area through the sharing of ideas.
Bi is very pleased with how the group has evolved because her original intent was to start a group for Mandarin speakers that have lived experience as mental health carers. Only such a group, made up of people with a common experience and culture, could fully understand other carers' needs and provide appropriate information, mutual support and referrals. With its new focus on a reaching a range of different CALD groups, the Northside CALD Carers Network can continue meeting the needs of carers and their families, now and into the future.
Northside CALD Carers Network (NCCN)
When
3rd Thursday of every Month
每個月的第三的星期四
Time
10:00 am to 12:00pm.
從早上 十點到中午的十二點聚會
Where
Ryde Community Mental Health Centre, 39-41, Fourth Avenue, Eastwood NSW 2122
Refreshments
Morning tea provided.
茶點招待
Call or Email
若欲知詳情請聯絡
Please feel free to join us.
Contact
Hideki Yamauchi
yamajii@optusnet.com.au