Law is a notoriously stressful career, and studying at law school is often similarly stressful. A 2009 study on depression within the legal community called 'Courting the Blues' by the Brain & Mind Research Institute of the University of Sydney revealed that there were high levels of psychological distress and risk of depression in both law students and practicing lawyers when compared with other industry professionals. Anecdotally, lawyers and law students reported increased levels of stress, anxiety, depression and drug abuse. Yet, law continues to be a highly sought after degree and career path for many students.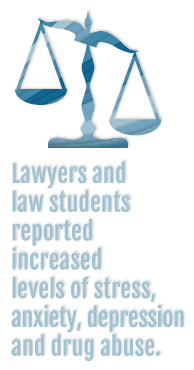 Survive Law is an online community for law students with an audience of more than 50,000 visitors each month. They provide law students with information, tips, and articles that discuss topics such as law school, career advice and mental health. In 2013, Survive Law conducted its first Australian Law Student Survey, the only national survey of its kind, to learn about students' law school experiences.
Surveying all 36 law schools in Australia and receiving more than 1,500 individual responses, the results from 2013 to 2015 show that law students are spending more time studying and the proportion of those who feel stressed 'most or all of the time' have increased from 51% to 55%. Accordingly, about 40% of students have considered dropping out. WayAhead spoke with a Survive Law Editor, Gina Yeung, about the results from 2013 to 2015.
"Going to law school is not an easy task. The pressure is inescapable in a way, but as to why it is increasing…you hear and read about the industry, such as the growing number of law students and graduates and not enough jobs in the market. That definitely increases competition," Gina explained.
Currently, the legal profession is experiencing an oversupply of law graduates facing the prospect of unemployment and underemployment. According to the Australian Law Students Association and 2016 Law Society National Profile, there are about 12,000 law graduates each year entering an existing pool of around 70,000 lawyers. As a result, graduate jobs are difficult to secure. The most popular career entry path for law students is through clerkships, a practical training and recruitment program with law firms. Each year, more than 1,200 students apply for clerkships, but firms are accepting fewer law clerks than before. In 2013, Australia's largest law firms were receiving 30 to 50 applications for every graduate position offered, as reported in Lawyers Weekly. Coupled with the frequent outsourcing of legal processes to other countries and the imminent use of artificial intelligence technology, law students are anxious about losing their entry path roles into the legal industry.
In addition to the pressures of securing a job after graduation, the experience of law school itself is often very stressful for students. Ruth Ann McKinney, Professor of Law at the University of North Carolina, authored a journal article about depression and anxiety in law students. She recognised that law school is a 'breeding ground for depression, anxiety, and other stress-related illnesses' and that the stress of going to law school is significantly higher than other students.
Gina Yeung spoke about the negative impacts of stress on law students and the steps that the Survive Law were taking to support other students.
"I think for most students, there would have been a point in the semester or while studying for an exam where they would have considered dropping out because it seems like the stress is too much at the time. [Survive Law] has recognised this so we have put out several articles like 'I think I Want to Drop Out of Law School' to help those students with their decisions as well as helping them recognise that they are not alone because many students feel this way at some point."
Survive Law also shares of gifs and internet memes regularly. Gina explains that there is definitely a humorous side to the shared misery of law students.
"I think one way of getting through law school is to laugh about it, even though they are just memes about very niche student problems that only law students have. I think it is very comforting, in a way, to know that law students from just about everywhere can relate to this one thing like it's an inside joke," said Gina.
Because of the increased awareness and relationship between law students and their mental health, law schools across Australia are increasingly holding their own mental health awareness activities and it is something that Gina identifies as important for universities to do.
"At my uni, we have a Wellbeing Week and there was a wall put up for people to write messages which helps to build that community within law school," said Gina.
"I think law schools and law student societies have a lot of responsibility in providing a safe and comfortable network for students by pushing mental health and wellbeing awareness at law school."
By Cindee Duong