When Simone first moved to Canberra in 2015, there was a lot to get used to. "The weather" she said immediately, when asked what she struggled with adjusting to the most. However, with the move away from Sydney, she also left behind her WayAhead Anxiety Support Groups. When she searched for something to fill in the gap left by no longer having contact with the support group, she struggled to find the right fit.
"When I moved down to Canberra, my anxiety was really bad and I'd just started taking medication for it. Just with the move and the life change, my anxiety was really bad then. I was desperate, frantically looking for a support group."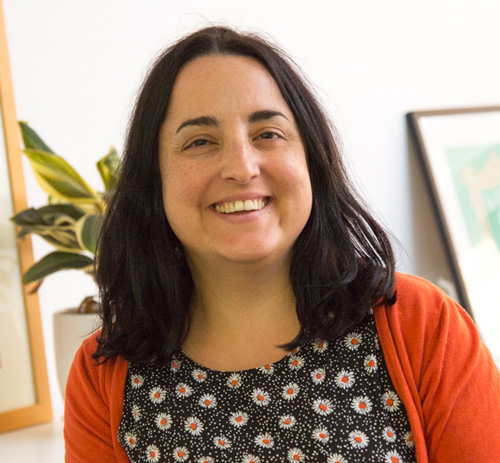 While there were organisations and groups to support better mental health for the region's residents, Simone couldn't find the kind of supportive community of people with lived experience that she was looking for, even after much research and reaching out to other organisations.
"There's no depression- or anxiety-specific support groups in Canberra that I know of…It's just horrible that there's that gap," she said.
So she decided to set up a brand new Anxiety Support Group, just across the state border in Queanbeyan, NSW.
Simone was perfectly placed to launch a brand new anxiety support group. She had had firsthand experience with several around Sydney.  When she first started attending an Anxiety Support Group in Glebe, in Sydney's Inner West, Simone had just been diagnosed with generalised anxiety disorder.
"The ladies there were wonderful," say Simone. "They were really nice and they were really helpful. It just had a really good feel to it. I went to a couple of meetings there and I even made a friend there."
The groups were so useful for Simone that she even attended groups in Parramatta and Sutherland. The great experiences and the sense of community and connection were something that she wanted to share with her new home, knowing how useful it could be for other people who might have had similar experiences to hers.
"When your anxiety is really bad, when you feel like you're just treading water – it's like you're just getting from one point to another – the meetings are so helpful and you get through. It just makes it way more bearable. You have a couple of good days just because the meeting was great," says Simone.
Along with the lack of specific services, there is also another challenge specific to working to provide a service to people across two states. Even though Queanbeyan is only 15 kilometres east of Canberra's city centre, the state border can make things difficult and, since WayAhead is the NSW Mental Health Association, the group had to be set up just across the border highlighting some of the issues of cross-border collaboration.
"Some of the people who attend the group have said that there's a real cut-off with services communicating between Canberra and New South Wales, like Queanbeyan. They don't tend to refer people from Queanbeyan to the hospitals in Canberra…People from Queanbeyan, I've heard they've been sent to there's this mental health facility or hospital in Goulburn. These are consumers who are coming into the meetings and telling me how frustrating it is."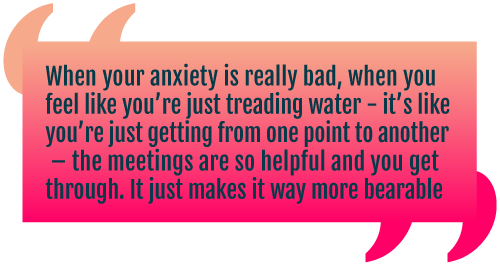 In spite of these challenges, the group has been going well. For Simone, having her own experiences to draw from has meant that she recognises and understands a lot of what group attendees say and go through.
"Especially when the group first started, people would say 'I've been googling and then this one just popped up' or 'my counsellor told me' or 'I couldn't believe it that finally there's a group.' So they've been looking for a while. I remember when you get to that point when you've got mental health issues, you're googling and looking for the same services all the time so you know what's out there."
For Simone, having new anxiety support groups start up within Canberra itself would be ideal. With universities, newly arrived public service graduates and a career-focussed environment, there is a lot of scope to help people in the community who are affected by anxiety disorders. For now though, the group in Queanbeyan is going strong and welcoming people from both the ACT and NSW.
"Our numbers are quite small but we have a few regulars," Simone said, "They get a lot out of it."
The Queanbeyan Anxiety Support Group runs on the 3rd Saturday of each month, from 2:00 pm at the Karabar Community Centre, 183 Cooma St, Queanbeyan.
(The community centre is located in the same complex as the preschool. There is a parking lot at the back of the community centre off Queenbar St.)
By Tasnim Hossain