Our families are one of our best support networks that we can rely on when we need a hand. In the mental health sector, family can be someone who actively cares for a consumer and supports them through recovery. However, among obsessive compulsive disorder (OCD) consumers, the family can potentially become engrained in a person's behaviours through family accommodation.
Dr Rocco Crino, a senior clinical psychologist and associate professor at Charles Sturt University, describes family accommodation as a common occurrence in OCD consumers.
"Family accommodation is where individual family members are involved in some way in the person's rituals. We know it's very prevalent in children with OCD, who involve their family. With children, it's always been the case that families have been involved, but less so with adolescents and adults.
"However, research is pointing to the fact that family accommodation amongst all age groups is fairly common and it can be associated with an individual's lack of progress in recovery and symptom severity."
There are various ways in which someone with OCD can involve a family member in their rituals. Dr Crino has seen various accommodation methods throughout his career. He says family members are only trying to help the individual and relieve them of the stress, not knowing that their actions are playing a role in the compulsive behaviours.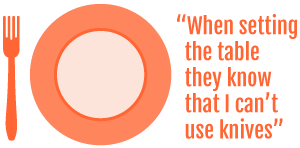 "It can be anything from providing reassurance through to helping the person perform their rituals or avoiding things that might trigger the rituals. Often the reasons behind it are to prevent stress in the individual, or to try and help them in some way, or to reduce their distress or anxiety. They do it for good reason, in order to help the person cope, to stop distress"
"In the research that we've done into why family members become involved in rituals, it was mostly to prevent the individual from becoming distressed because they love the person and feel sorry for them.
Joanne is a high school student who has OCD. While she doesn't display signs of family accommodation, she says that family can still impact her rituals.
"My family doesn't form a direct part of my compulsive behaviours, however, just as anyone else can, they have the ability to trigger a reaction based on their behaviour. Family has more of an impact on my compulsive behaviour as they play a large role in the environment that I'm in, directly impacting the severity of my triggers and mental state."
While her symptoms haven't significantly impacted her family, Joanne says they have had to become accustomed to certain rituals.
"Small things have had to change, for example my siblings know now that if they want a high five, it's going to have to be a high ten instead, or when setting the table they know that I can't use knives. I'm terrified of cutting myself accidently, and being placed in a situation where I might have to cut myself intentionally to even the sensation, so they need to set the table differently at my spot. These things however have become part of the normal running of our house."
"Some days they have to be more understanding if I snap at them for no apparent reason, and some days they have to accept that I'm going to have a really hard day and they will just need to stand by me in that."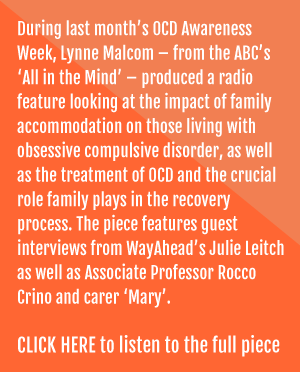 Dr Crino is quick to reassure that family members should always support and care for a loved one with OCD. While it may seem unhelpful for family members to put themselves in a situation where they form part of a person's rituals, Dr Crino says family members are not at fault as the symptoms of OCD are difficult to understand for those without OCD.
"I think it's more that the OCD has no logic associated with it. To wash your hands because you think you're contaminated is fine if you do it once but to do it 40 times, to check the front door, to repeatedly count things, it doesn't make sense for someone without OCD. But in order to prevent the distress, they find themselves wrapped up in it. In some cases, it can lead to confrontation and end in arguments and more distress."
Within his practice, Dr Crino has seen an increasing number of cases where family accommodation is occurring. He says the best thing for family members to do in this instance is to remove themselves from the rituals.
"No matter the situation it is best to gently disengage. If the person is undergoing treatment it's a good idea for family members to be involved in that treatment, so that they gradually withdraw their inadvertent support."
For Joanne, her immediate family act as a crucial support for when she is experiencing OCD symptoms. She says that they have been incredibly understanding throughout her life.
"Some of my immediate family members have a greater understanding of my symptoms than others. Some family members just know that I am a little bit different and have come to accept that things have to be done a certain way, but don't know why. My mum has the greatest level and she helps me greatly with expressing how I'm feeling and helping me to deal with the sometimes overwhelming emotions that OCD creates.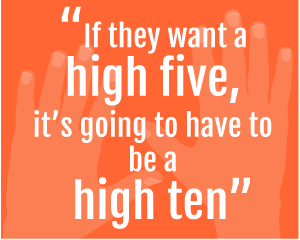 "In terms of managing my OCD, family are one of the strongest support systems I have; they are there with me throughout the entire day and play a big impact on the environment around me. They accept me for who I am and never draw attention to the illness of my behaviours when they occur. I owe a lot to them. They're truly amazing."
While there are many avenues OCD consumers can take, family members who find themselves a part of a family accommodation ritual should also seek support and education on how best to help their loved one.
"There's always the possibility of them attending the WayAhead support groups and getting information from these groups," Dr Crino says.
"Alternatively they can seek information from their GP and also ask for a referral to a specialist who deals with OCD to find out how best to assist the individual. So there are ways that they can be educated about what to do and what not to do."
By Harry Easton