The 2016 Annual Member's Forum for WayAhead Workplaces drew together more than 100 people to hear presentations on diverse topics such as the impact of workplace design on mental health, planning for an aging workforce and measuring the economic benefits of workplace health programs. It also provided an opportunity to participate in "research speed dating" that allowed university research teams to pitch their workplace health ideas to the network membership in the hope of finding mutually beneficial projects to work on. Our 10th birthday provided us with an opportunity reflect on just how far we've come since our first meeting in 2006, with just 19 attendees and a vision to improve the mental health of Australia's working population.
WayAhead Workplaces (the new name for the Workplace Health Promotion Network) stills holds the same aim. Run by WayAhead – (Mental Health Association NSW), WayAhead Workplaces supports our member organisations in creating healthy, safe workplaces via meetings, newsletters, conference discounts and online resources.
The program was the brainchild of Marietta Davis, who remembers being at an HR seminar and discovering there were many Occupational Health & Safety people working specifically on the health of their staff. It occurred to her then that it would be a good idea for them to all meet and support each other. At this time there were far fewer people working fulltime in wellbeing roles, and also far fewer organisations, programs, and resources available. Marietta believed that people thrive when given freedom and trust, and saw the future of workplace health as supporting mental health with flexible, reasonable hours.
WayAhead Workplaces is now a well-established and recognised name in the workplace health sector, with over 60 paid members in Sydney, over 25 in Brisbane and several other interstate members as well.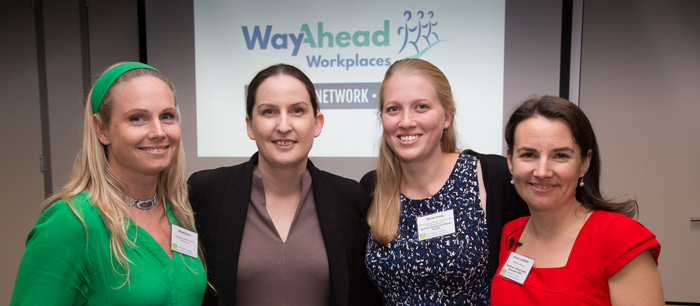 Key Players
Marietta, who is still a member of the network, ran the program from 2006 to 2007, bringing Nataly Bovopoulos (who is now the deputy CEO of Mental Health First Aid Australia in Melbourne) on board to share the workload in 2007. When Marietta left in 2008, Nataly took over, running the program from 2008-2010. Next to come on board was Katrina Davis, who assisted then oversaw the network from 2008-2012, and is now a policy advisor at the Mental Health Commission NSW. Finally, there was Stacey Young who worked with Katrina from 2011 to 2012. Stacey then went on to work in the Workplace Research Centre at University of Sydney and now works for Child and Youth Mental Health Service (CYMHS), Northern Sydney LHD.
WayAhead Workplaces is now managed by Sharon Leadbetter, who took over in 2013. Two other colleagues, Ci'an Kemp and Madeleine Fabian, were also integral in their role covering WHPN for the 6 months between Stacey's departure and Sharon beginning.

Our Journey
According to Nataly, the members of WayAhead Workplaces were always interested in mental health promotion. In particular, how to get support from management on programs and how to work in resource limited environments. Even in large corporations, funding for workplace health promotion is often limited. Nataly does, however, see changes taking place in how workplaces manage mental health. These changes include more organisations moving beyond awareness sessions with staff, and developing more comprehensive strategies from prevention all the way to return-to-work. More organisations are also getting involved in campaigns like R U OK? Day and appointing Employee Assistance Programs (EAP). Mental health literacy and social support is also improving, with increased focus on training managers about supportive leadership, as well as appointing workers in formal roles as mental health first aid officers or wellbeing officers.
When Katrina was overseeing WayAhead Workplaces, large corporates were offering gym memberships, and other perks that positioned them as employers of choice. She believes the corporate sector now understands that workplace health promotion has huge productivity benefits, and are getting more sophisticated in their approaches. Stacey also says that when she started, information on the health risks of workers sitting for long periods was becoming more widespread, and organisations were moving towards having sit-stand desks and other initiatives to increase physical activity. Technology has now changed dramatically, and these changes can impact both positively and negatively on workplace health and wellbeing. It will be interesting to see how organisations can harness the power of technology to improve health, wellbeing and flexibility, and also manage some of the potential negative effects, such as the struggle that many workers face in 'switching off' from work.
By the time Sharon Leadbetter came on board 3.5 years ago, the network had grown greatly in both membership and scope, and was able to expand its membership outside New South Wales to many organisations in Queensland, as well as interstate. Sharon says that over this time she has seen changes in awareness and attitudes towards mental health, which is heartening. She says she is getting approached by more people asking questions about what mental health and wellbeing means in the workplace, and how they can be proactive about it.
There is now much more Australian research coming out in the area of workplace health and wellbeing, which means we now don't have to rely as much on overseas data, as we have our own to build on. While it is an exciting time to be working in this area, we must remain mindful that for many, the job of bringing about behaviour change in workplaces is still a challenge. There are still many people who lack support and resources, as well as facing bullying, unreasonable workloads, poorly managed conflict situations and unhealthy work environments. The good news is that we now have access to ever-expanding resources, information and support, via the internet, and services such as our network. Workplace health itself as a sector is growing as it becomes a more specialised field.
The Future
Once upon a time, "workplace health" meant physical safety, and tended to have to a reactive and compliant focus. Now it means taking a preventative, proactive approach to all aspects of workplace health and wellbeing. This involves actions such as training and supporting managers to develop meaningful relationships with their staff, and helping them initiate difficult conversations if they think someone isn't doing well or needs support. It is also important to give managers the skills and confidence to deal with relationship conflicts in the workplace. It is very important to make workplace health part of the strategic plans and policies of a business with employee involvement at the core, all of which help lead to creating a positive workplace culture.
While health care costs are increasing, this can potentially be reversed over time by focusing on preventative rather than reactive strategies and services. The use of technology in workplace health is also significant. There are so many more devices that measure all aspects of a person's health, which can lead to more personalised wellbeing strategies to suit the diversity of modern workplaces.
WayAhead Workplaces is continuing to go from strength to strength. Our newsletter subscribers have grown along with our average meeting attendance. We have developed the members section on the website, and expanded our membership tiers to reflect the different types of people interested in our network. There isn't another network around like ours, and we hope that we continue to provide that niche in the market to act as a facilitator to help organisations meet peers and researchers, to continue having stimulating discussions, and to provide support and encouragement for more workplaces to take a preventative approach to improving workplace health and wellbeing.